Buying or selling a home requires making some important decisions…the first of which is your choice of great representation. It is vital to select a team of professionals who care about your success and who desire to make your move an enjoyable and stress-free experience. Our team provides valuable industry knowledge along with the drive to deliver exceptional service and to surpass your expectations.

Meet Angela Byrne, Broker/Owner
With over 15 years in the Colorado Springs real estate market, Angela has a great deal of experience to offer. After earning a BBA with an emphasis in marketing from the University of Central Arkansas, she accepted a position as Marketing Director for a Colorado real estate brokerage. After a few years, Byrne Real Estate and Property Management was formed and Angela became the team lead…helping families buy, sell and rent homes in Colorado Springs and surrounding areas (like Falcon, Peyton, Black Forest, Monument, Manitou Springs, Fountain, and more!).
Angela has the market expertise and the industry experience to get you where you need to be…on time! The team employs technology systems that allow the communication of valuable market information to you in a timely fashion. Finally, her advanced training in negotiating tactics will save you more money (and bring you more favorable conditions) at closing. This means that we're able to successfully negotiate the price and terms that work best for you.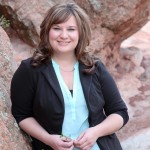 Meet Morgan Schneider, Broker Associate
Morgan is a licensed Broker Associate for the Springs Living Team at Byrne Real Estate and Property Management. She worked for the firm's property management division initially, transitioning into sales to work with clients buying and selling real estate.
Her formal education includes dual Bachelors Degrees of History and Education with an emphasis in Political Science from Fort Hays State University. Prior to licensing, she played a vital role in property management by marketing vacant homes, advertising properties to promote favorable activity and assist interested clients by sharing her knowledge of the Pikes Peak Region.
Morgan is a full-time dedicated real estate professional, and is a member of the Pikes Peak Association of Realtors, the Colorado Association of Realtors, and the National Association of Realtors. She will help you achieve your goal of selling your home quickly by ensuring there is always someone to take calls, show properties and field offers quickly and efficiently!


Byrne Real Estate & Property Management
4740 Flintridge Drive, Suite 110
Colorado Springs, CO  80918
Office (719) 260-9970